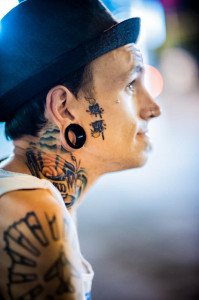 The Gallery Tattoo Studio
Concord, Massachusetts

1-978-610-6861
Alecrudeboytattoo@gmail.com
www.thegallerytattoostudio.com
Alec Rude boy was Raised by Wolves. Not seeing another human till the age of 16. At first glance the only thing he noticed on the human was a tattoo. Being filled by an artistic drive later in life He learned to Tattoo. Hes been in the Industry now for 8 Years and Tattooing for 6 years. He is well versed in all Aspects and Styles of tattooing but mainly focuses on a Neo- Realism Neo- Traditional style with bright vibrant colors and full Spectrum Blends. If your interested in collecting a tattoo from him call, email, or stop by the booth with your idea and he'll be glad to help you.