Progressive Piercing Techniques: Instructed by Ryan Ouellette of Precision Body Arts. Nashua, New Hampshire.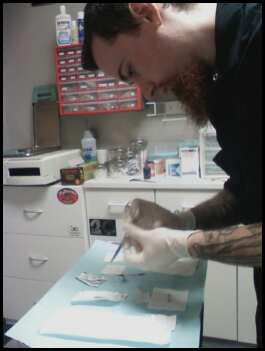 This year our focus is on minimizing tools with adapted freehand techniques. Learning how to complete a piercing with nothing more than a needle and jewelry can help increase efficiency in your piercing studio as well as make the piercing easier for the client. We will discus ways to perform piercings from back to front, or inside out. Piercings covered will include inside-out nostril and lip piercings with threadless jewelry, back to front cartilage piercings such as helix and tragus, as well as freehand techniques for nipples, navels, tongues, and more. Learn how to adapt freehand techniques to suit most common piercings. Attendee questions are encouraged, live models will be used to illustrate techniques. Great information you can use in your studio whether you are a newer piercer or have years of experience.
Course instructor Ryan Ouellette has been piercing professionally for over ten years and is the owner of Precision Body Arts in Nashua, NH. He has instructed classes for the Association of Professional Piercers annual training conference, the Body Mod Exchange Network (BMXNET) conference in Germany, as well as here at the Boston Tattoo Convention.
Sunday, August 31st, 1pm
Running Time: 90 minutes
Cost: $125 pre-registered, $150 at the door.
To pre-register email Ryan at: ryanpba@hotmail.com
---
The Basics of Tattoo Flash Style Watercolor
Topics Covered:
-Brushes
-Paper/wood/board
-Paint (watercolor verses liquid acrylic)
-Spit shading
-Staining
-Sealing
Everyone that attends this seminar will receive Myke's new sketchbook, Eternally Bound Vol 2.
This is a hands-on seminar. Brushes, paint, and paper will be provided (supplies permitting). If you have brushes bring them with you or feel free to pick up brushes before hand KAERELL Raphael (or comparable) #5 & #1.
Saturday, August 30th, 12pm
Price: $100
Space is limited and will fill up fast. Make sure to reserve your spot in advance by emailing mykechambers@gmail.com
---
Black and Grey Techniques with Carl Grace

Advance in your black and grey! Carl Grace will go step by step explaining his techniques in creating a solid black and grey tattoo. Using examples of previous work, Carl will explain how and why the skin was entered using various set-ups. The use of black and white, techniques of creating smooth consistent light greys, the secrets that come from years of experience with black and grey tattooing. Everyone knows watching is the best way to learn, a short live demonstration will be held to further the knowledge learned. Question and answer session will be held during and at the end. Topics Covered: Building contrast, focal points, full grey wash palette, solid black fill, realism, use of coils and rotary machines.
Sunday, August 31st, 3:30pm
$150 to attend, and this class counts as a 3 hours of continuing education.
bigctattoos@gmail.com
---
Finding Focus with Johnny Smith
Using fine art techniques to create paintings in the skin.
In this seminar Johnny will go step by step through his entire setup, and tattoo process, including talking with clients to create the best tattoo ideas possible, early conception, drafting ideas, creating and finding unique reference material, using the shapes of the body to enhance your tattoo, stencil and setup, color choices, and the various techniques he uses to create and execute a realistic tattoo.
Friday, August 29th. Time TBA.
Running time: 3 hours
Cost: $150