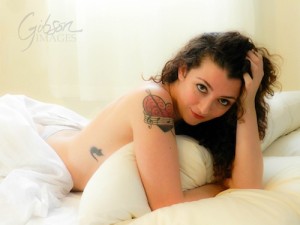 Mary Widow: Mary Widow is a founding member of Black Cat Burlesque, New England's first horror burlesque troupe. Since 2003, Mary has delighted and disturbed audiences with her signature blend of horror, humor, sex, drugs and rock-n-roll. The Boston Tattoo Convention is one of Mary's favorite gigs every year, and she is excited to bring you this year's show.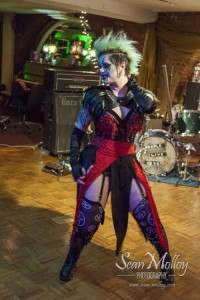 Mx Macabre: Raised by feral drag queens, Mx Macabre has many talents, some of which are safe for public discussion. Burlesque performer, poet, pinup, gender provocateur.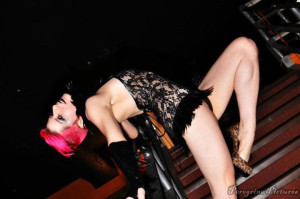 Fonda Feeling: Hailing from the wilds of Boston, Massachusetts, Fonda Feeling burst into the burlesque scene in late 2009, performing with several local burlesque troupes and beginning to travel with Cosplay Burlesque, frequently guesting for other shows in the tri-state and New England area. Turning more to sideshow and circus, they have since traveled the world working as a circus/sideshow performer and as a model. Currently back in Boston, they are combining their love of circus, burlesque, and being a massive nerd into an explosion of performance energy and awful puns.
Jane Doe: Jane Doe is a Boston-based burlesque performer and producer who's leaving her bloody hand prints everywhere! She creates burlesque mayhem as a co-founder and co-producer with Sparkletown Productions and as a co-producer of Alterna-Tease, the New England Neo-Burlesque Festival. She's also a member of the award-winning burlesque and dance company Lipstick Criminals, strip-hop troupe The Glitter Bombs, and punk-rock burlesque collective The Bloodstains. Jane is obsessed with blood, badassery, burlesque, and devising plans to combine the three.
Danielle Winkler: Danielle is a marketing consultant by day, circus runaway in training by night. Her hobbies include sitting on her own head, throwing her legs questionable places, and learning to shoot a bow and arrow with her feet.
Femme Bones: Boston's Trick with the Treats, Fem Bones is a scream queen of the striptease scene! Head ghoul of horror burlesque troupe the Slaughterhouse Sweethearts, owner of Prime Cut Productions, and one of the minds behind Spider Cult the Musical, this spookshow baby isn't clowning around! She's thrilled to be performing at the Boston Tattoo Convention once again, and can't wait to put a smile on your face, some pep in your step, and some spite in your heart!
Broad Stewart: This tiny punk pixie has tap danced her way into the hearts of the Boston Burlesque scene. You've seen kid performing in The Slutcracker, and with the troupes The Glitter Bombs and The Bloodstains. Kid Vicious thinks tattoos are cool, but boobs are cooler.