The Boston Tattoo Convention puts Boston on the map each year for tattoo culture and lifestyle. Body art has been recognized internationally as a significant cultural art form and an important medium of communication and personal expression. Utilize this unique opportunity to reach out to one of the largest and most diverse crowds out there!
We have a variety of sponsorship levels available to fit your budget and help promote your brand.
Please email info@bostontattooconvention.com to request a sponsorship kit, or click here to download.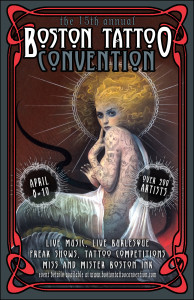 Additionally, we still have availabilities for web banners and thumbnails on our website, program guide advertisements, a web banner that is viewable when booths or tickets are purchased online, and our fliers/posters. Make sure to peruse our sponsorship kit and call or email with any questions, proposals, or to purchase your ad today!
Email info@bostontattooconvention.com for further information regarding sponsorship/advertisement opportunities.
15th Annual Boston Tattoo Convention
April 8-10, 2016
info@bostontattooconvention.com