OC-45
Since it's inception in the summer of 2011, OC45 has played over 350 shows and spent approximately 43 weeks on the road, spanning six different DIY tours throughout North America. In Septemeber 2013, the band released it's debut EP, "When It Hits", on it's own label, BirdsEye Records. March 2015's follow-up release, "Burn It", was also released on BirdsEye, this time with the help of Boise's 1332 Records. With a European tour coming up this fall and a full-length in early 2017 in the works, OC45 is showing absolutely no signs of slowing down.
OC45 has shared the stage with the Swingin' Utters, Cockney Rejects, Youth Brigade, Street Dogs, Agent Orange, The Casualties, DOA, MDC, Koffin Kats, Hudson Falcons, Darkbuster, Big D and the Kids Table, Get Dead, La Plebe, Far From Finished, Potato Pirates, The Scandals, Sniper 66 and many more amazing bands.

Chrissy V & Angela Lee
Chrissy V and Angela Lee are a couple of rock and roll ladies. They are also really good friends. Angela is the frontwoman of Radio Compass, and Chrissy is the guitarist for Petty Morals. Both ladies have been in and around the Boston scene for years: Angela was in Parker Hill, and Chrissy has played in the Grinds and was the frontwoman for long-time punk outfit, the Spoilers. Approximately one year ago the girls started playing acoustic gigs together. From there, their sets began to merge as they realized singing together not only sounded good, but was really fun. So now they sing and play on each others own original songs, and also have added an array of fun covers including songs from the Queers, Bikini Kill, the Pogues, and even Tom Petty. They like wine, dogs, cute boys, and dancing to 80's classics, in approximately that order.

Riki Rocksteady
Born In Hartford,CT. in 1980. Like a true New Englander,Riki lived all over the East Coast throughout his youth from Connecticut to Maine & Boston to Miami. He now resides in Boston,MA where he still performs. A hard worker,a dedicated skinhead and an even tougher man with a reckoning in life! Known to many already in Boston, New York, and Miami as a skilled songwriter and street musician, Riki Rocksteady and his band are quickly broadening their appeal. First noticed nationally with the successful college radio airplay of his song "Crazy Dave" from the Spit Shine Records' compilation Leisure Riddims (2002), he has continued to gain recognition with "Going Home Dub" off of the Dubshine Compilation (2003) and caught the ear of European radio stations and Internet sites. Boston's Spit Shine International record label recognized his talent, signed him, and has released his first full-length album at the tale end of 2004. Entitled, "Your Official Introduction" the album of 12 original tracks enlists some guest appearances by seasoned Boston ska/reggae artists of Bim Skala Bim, The Allstonians, and The Harmonics.
Since the release of his own album, he has been asked to guest appear on many other artists albums, from adding or guest "toasting" on tracks, to his independant songs being added to compilations. Along with recording for/with many other fellow artists, he is consistently asked to share the stage with artists, from new comers to legends in our genre & industry. Riki has toured widely, on multiple US tours from the East coast to the West & extensive travel in between. Never wavering though, is the consistency in which his talent is sought after, from fans & industry comrades alike.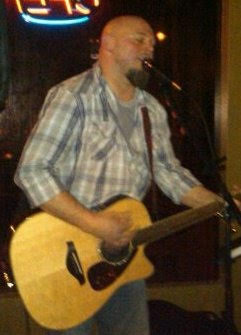 Malcolm Salls
Malcolm is a solo acoustic artist from NH who cut his teeth touring with metal and punk acts throughout the 80's and 90's. He has shared the stage with a diverse group of bands including Live, Mission of Burma, Wire and Danko Jones. His unique approach to stripping down a cover and making it his own, combined with a broad taste in music and maudlin, introspective originals makes for a "left of center" acoustic experience. As much as he claims it is about the music, we all know its about the women and feeling like one of the cool kids for one set at a time.

Jesse Ahern
Jesse Ahern is a working class troubadour with a wide range of musical influences—Americana,Blues,Country and Rock n' Roll. He has played the Subways and Open Mic Nights but found his true calling playing the Barrooms of Boston and beyond as the Singer/Songwriter for The Ramblin Souls and The Roots Rock Rebel Revue. www.jesseahern.com