________________________________________________________________________________________________________________
A classic in body piercing, and one of the hottest trends in fashion today. Nipple piercings are something every piercer should be focusing on. This class will explore multiple aspects of nipple piercing fundamentals, as well as variations such as inverted nipples. Anatomy, placement and marking, jewelry selection theory, aftercare, and of course performance. We will explore and compare clamp based and freehand based concepts. Troubleshooting common issues and how to prevent them through foundation will also be discussed. This class will include a slideshow presentation and videos created specifically for the professional piercer. Open to professional piercers of all skill levels.
​
Sunday March 31st 2019 1:00-3:00
Cost $100
Pre-registration will be required to verify professional status. Please email ryanpba@gmail.com with the subject "Boston seminar" and include:
your full name (and what name you want on your certificate if it varies)
your phone number and mailing address
the studio you are currently working in
a copy, scan, or photo of your piercing license, piercing business card, screenshot of a website listing you as a piercer, or APP member certificate / link to listing on the APP website.
Once we have that we will send you an electronic invoice you can pay online.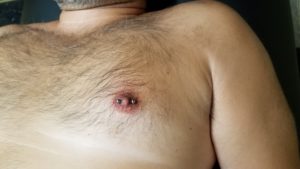 ABOUT THE INSTRUCTOR: Ryan Ouellette has been a professional piercer for over 20 years. In addition to owning Precision Body Arts in Nashua, New Hampshire he is a member of the Association of Professional Piercers. Ryan instructs classes for the APP's annual conference in Las Vegas, as well as the United Kingdom's Association of Professional Piercers, and Germany's BMXNET conference.