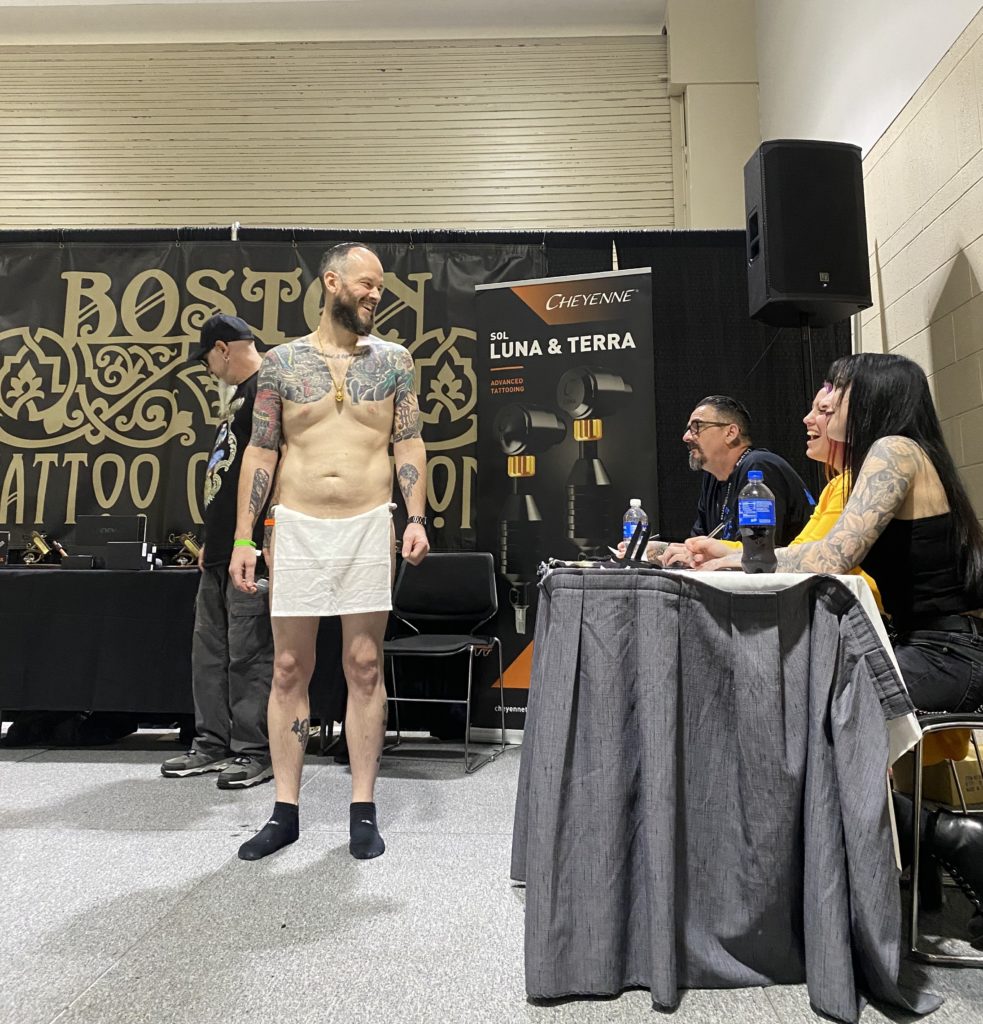 ---
Artist Specific FAQs
---
Q: What are the Licensing Requirements to provide services (i.e. tattooing, body piercings) at the event?
A: All body artists (i.e., those who would like to tattoo, pierce, etc. at the BTC) must apply for a Temporary Body Art Practitioner License from the Boston Public Health Commission (BPHC).
You can submit applications, required documents, and the permit fee online or by mail. Please direct all questions to 617-534-5965 or EHPermits@bphc.org.
Q: Where can I find the requirements, documents needed, and fees for BPHC licensing applications?
A: Please review the BPHC Permitting Portal for a detailed list of the requirements. High level details are available below. Please note: BTC staff is not able to research applications for licensing. Please direct all questions to the BPHC team using the information above and within this link.
Body Art Practitioner License – Documents
A valid government-issued photo ID (driver's license, passport, state ID)
Certificate of completion of bloodborne pathogens course
Certificate of completion of First Aid/CPR course
Piercers only: Certificate of completion of Anatomy & Physiology course
Proof of at least 1 year of experience such as a copy of your current body artist license/permit or other proof of professional practice such as a business license or tax certificate
Permit Fee: $75 permit fee
All complete applications must be received by at least 5 business days in advance of the Boston Tattoo Convention to ensure they are processed prior to the convention. Applications that are incomplete or that are not received will not be processed.
Q: Do you provide Distilled Water?
A: No, we do not provide distilled water. Please review the Checklist in your welcome packet for a comprehensive list on what to bring with you.
Q: Do you have massage tables available to rent/ buy?
A: No, we do not have massage tables available to rent or buy at the event.
Q: Do you provide Sharps containers?
A: Yes.
Important: At the end of the show, Sharps must be placed with a gloved hand in the BioWaste containers at the Artist Area. Booths who do not properly return their sharps may receive a violation and potential fines.
Q: Do you provide consent forms?
A: Yes. QR codes will be available for scanning at each booth and in the main areas of the event floor.
Q: Is there an artist area for printing and stenciling needs?
A. Yes. There will be an artist station for printing designs and stencils the entire event
Q: What do I need to know about Tattoo contests?
A: Unless otherwise noted, you can find our Contest Signup booth next to the Entertainment Stage. Signup ends 30 minutes prior to Judging.
Entry Fees: Tattoo of the Day/ Best In Show = $20, All other Contests = $15. Cash Only.
Size Parameters: Small = 4'x 4′ and smaller Medium = Up to 8' x 8' Large = Up to 12′ x 12′
General Information/Rules
All judges are impartial and unbiased. All entries are considered fairly and equally upon their own merit.
The performing artists remain anonymous until awards are presented, judging is based solely on the technical and artistic qualities of each tattoo.
Winning artists and winning collectors will receive a plaque. Contest registration is open to all applicants whose artist is attending the convention
All Tattoo of the Day entrants must be performed by artists in attendance at the convention, started and completed on the day of the contest.
Best Of Show entrants must have been started and completed on any day(s) of the convention
Both the tattoo artist and the collector must be present to receive their plaque for Tattoo of the Day & Best Of Show. The collector must be present for their plaque in all other categories. In the case that either is absent, trophies will be awarded to the runner up.
All submissions to the "Best Cover-Up" category must include a clear and publishable "before" photograph.
---
Artist & Vendor FAQs
---
Q: How do I register for a booth?
A: All Registration requests must be submitted using the Online Registration Form.
Upon submission of the form you will be redirected to complete payment. Once payment is submitted please select the option to "return to merchant" to complete your registration.
Please note your registration is not considered complete and your booth(s) are not registered until payment is received in full.
Q: What is Included in a Standard Booth ?
A: Booths are 8' x 10' and include: 2 Skirted 6′ Tables, 4 Chairs, 2 Artist/Vendor Passes (Non-Transferrable), Electricity (if needed –power strips available for $15), Trash Bin and Liner, Sharps Container & website portfolio highlight
Q: If I am a vendor, do I need to submit Health Department Paperwork?
A: No, vendors are not required to complete licensing / BPHC paperwork.