What is a tattoo convention?
A tattoo convention is a gathering of many tattoo artists and collectors who come together to share their artwork and create new pieces. Live tattooing, piercing, and a variety of different forms of entertainment serve as the main attraction, while vendors offer a plethora of goods for sale such as t-shirts, artwork, jewelry, and accessories. Additionally, daily tattoo contests, competitions, music, after parties and performances flesh out the schedule.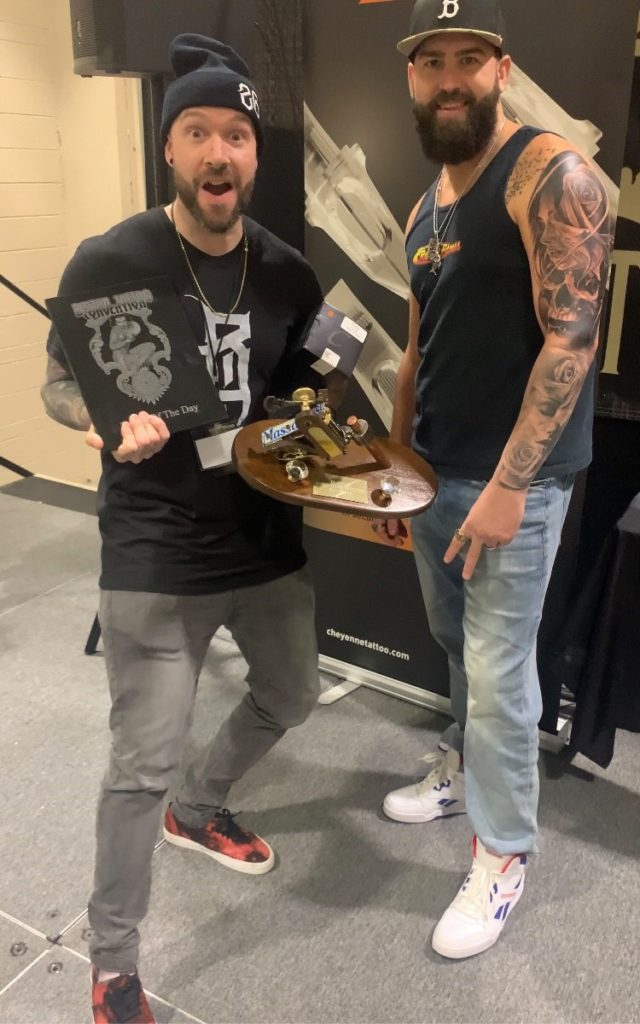 ---

Can I get tattooed at the convention?
Yes! View the artist portfolios and contact your artist directly to book ahead of time. Or just show up and find an artist who is free!
---
Do I need to buy my ticket ahead of time?
No. You can purchase tickets at the door or online before the event!
Who can attend?
Admission is all ages, and children 12 & under receive free admission with a paid adult. Often there are many whole families there, ranging from babies to seniors! ATTENDEES UNDER THE AGE OF 18 MUST BE ACCOMPANIED BY AN ADULT AT ALL TIMES.
---
How do I get a tattoo and how old do I have to be?
You must be at least 18 years old, with photo ID (such as a driver's license), to get tattooed. All working tattooists at the Boston Tattoo Convention are licensed and trained professionals and will NOT deviate from that policy. As long as you are 18 or older, you can walk right up to any working artist at the show and discuss the tattoo design you are looking to get. Keep in mind that many attending artists will be busy with a number of different clients, so it's a good idea to book your time in advance. You can view all of the artist portfolios online and contact them via email or phone.
---
Are the artists working safely and hygienically?
Yes, everyone tattooing at the BTC is working directly under Boston Public Health Commission's strict regulations. In addition to these being some of the strictest rules in the country, there are on-site health officials from the BPHC overseeing the compliance of each and every licensed artist. Single-use needles and disposable barrier products are mandatory and ensure a sterile working environment. A spore-tested, hospital-grade autoclave is available for use by artists on the premises and bandages, disposable gloves, and aftercare instructions are made available to artists and collectors by the convention organizers and the BPHC.
---
Can I drink alcohol before I get tattooed?
NO. Alcohol is a blood-thinner, will make your tattoo bleed excessively, and complicate the process of receiving and healing your piece. Plan on eating a good meal prior to getting tattooed and leave the drinking to people not getting any work done.
---
How much does it cost to get a tattoo?
Prices vary from artist to artist and are completely at their discretion. Small tattoos may range from $50 to $100 with average hourly rates ranging from $100 to $250. Also, keep in mind that it is customary to tip an artist anywhere from 10 to 30 percent if you feel he or she did an outstanding job.
---
How do I get more information about the show?
Important details, times, ticket prices, contest schedules, artist contact info, travel info, and hotel info are available on the About page. During the show, please consult Instagram or Facebook for updates and additional information.
---
All attendees at the Boston Tattoo Convention will be subject to bag check and metal detection.
---